HIKVISION DS-7608NI-Q1 Unleash Powerful Surveillance Capabilities.When it comes to safeguarding your property, having a reliable and efficient surveillance system is essential. Introducing the HIKVISION DS-7608NI-Q1 8-ch 1U 4K NVR, a cutting-edge network video recorder that takes your security measures to new heights. Packed with advanced features and top-notch performance, this HIKVISION NVR is the perfect solution for businesses and individuals seeking robust video surveillance capabilities.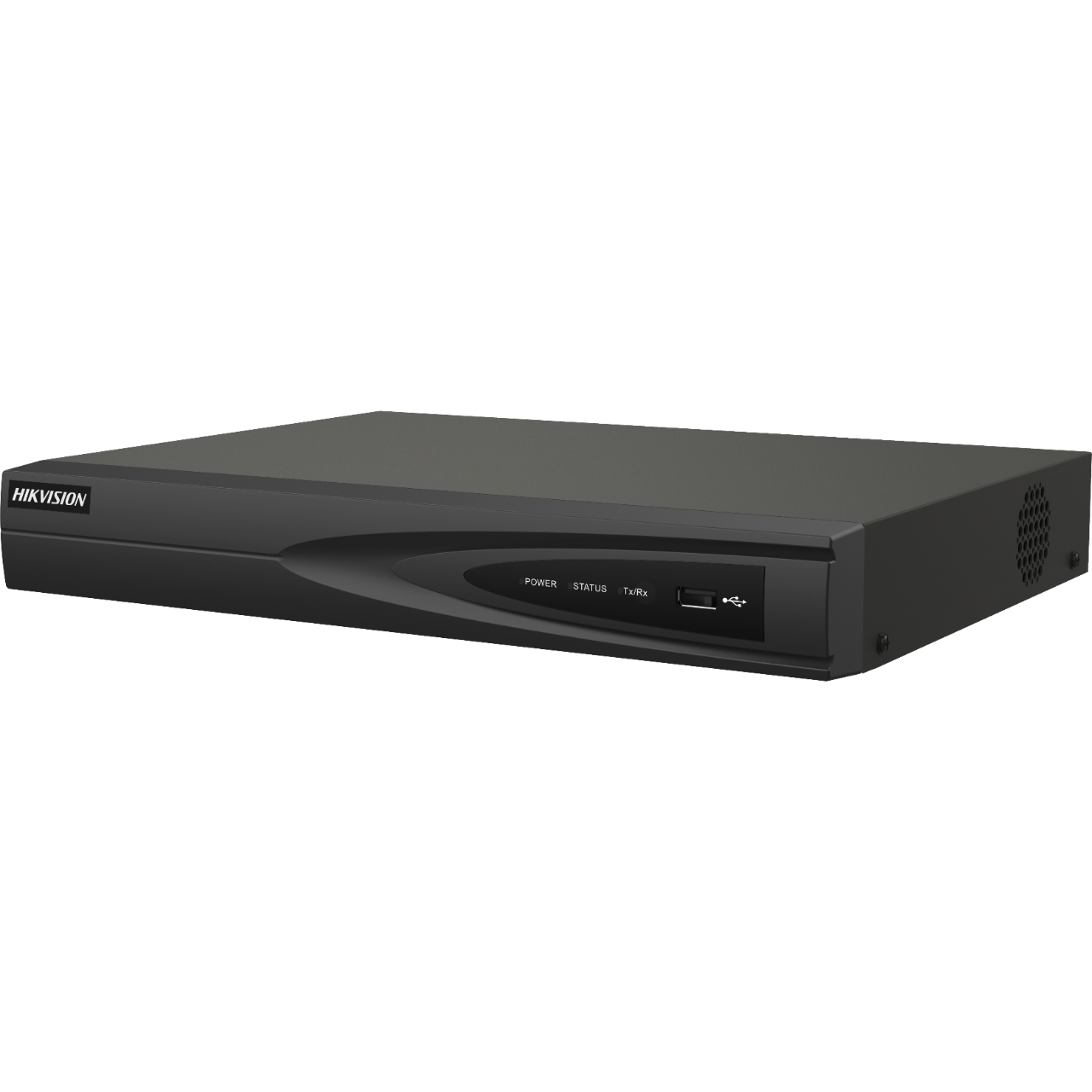 The DS-7608NI-Q1 supports up to 8-ch IP camera inputs, allowing you to monitor multiple areas simultaneously. Whether it's a small office or a large commercial space, this NVR ensures comprehensive coverage, leaving no blind spots. With its flexible camera input options, you can easily expand your surveillance network as your needs evolve, providing you with peace of mind knowing that your property is well-protected.
Equipped with advanced video formats including H.265+/H.265/H.264+/H.264, the DS-7608NI-Q1 delivers efficient video compression without compromising image quality. This means that you can capture crystal-clear footage while optimizing storage space. Whether you're monitoring critical areas or reviewing past incidents, the DS-7608NI-Q1 provides sharp and detailed visuals, allowing for accurate analysis and identification.
With up to 1-ch@8 MP/3-ch@4 MP/6-ch@1080p decoding capacity, the DS-7608NI-Q1 enables smooth playback of high-resolution video streams. This decoding capability ensures that you can review footage in great detail, making it easier to spot crucial information and respond to security events effectively. Whether you're investigating incidents or conducting forensic analysis, the DS-7608NI-Q1 empowers you with the tools to extract maximum value from your surveillance footage.
The DS-7608NI-Q1 offers an impressive incoming bandwidth of up to 80 Mbps, enabling seamless and uninterrupted data transmission. Whether you're accessing live video feeds or retrieving recorded footage remotely, you can rely on a stable and reliable connection. This ensures that you stay connected to your surveillance system at all times, keeping you informed and in control of your security measures.
In addition to its powerful features, the DS-7608NI-Q1 boasts a compact and space-saving design. With its 1U form factor, it can be easily installed in various settings without taking up valuable space. Whether it's a small office, retail store, or a larger facility, the DS-7608NI-Q1 seamlessly integrates into your existing infrastructure, providing a hassle-free setup experience.
When it comes to compatibility, the DS-7608NI-Q1 supports a wide range of IP cameras, allowing you to choose from various models that best suit your needs. Whether you prefer HIKVISION cameras or cameras from other reputable brands, this NVR ensures seamless integration, giving you the flexibility to build a surveillance system tailored to your specific requirements.
In conclusion, the HIKVISION DS-7608NI-Q1 8-ch 1U 4K NVR offers a comprehensive and reliable solution for enhanced video surveillance. With its advanced features, efficient video compression, flexible decoding capacity, and seamless connectivity, this NVR empowers you to take control of your security measures and ensure the safety of your property. Upgrade your surveillance system with the DS-7608NI-Q1 and experience the peace of mind that comes with robust and cutting-edge video surveillance capabilities.
About Author