Unlock Unparalleled Surveillance Potential with HIKVISION DS-96256NI-I24 256-ch 4U 4K Super NVR
In the dynamic world of security and surveillance, staying one step ahead is crucial. HIKVISION, a renowned leader in security solutions, introduces the groundbreaking DS-96256NI-I24 256-ch 4U 4K Super NVR, pushing the boundaries of video surveillance capabilities. With its advanced features and seamless integration, this NVR sets a new benchmark for the industry, empowering organizations with unrivaled surveillance potential.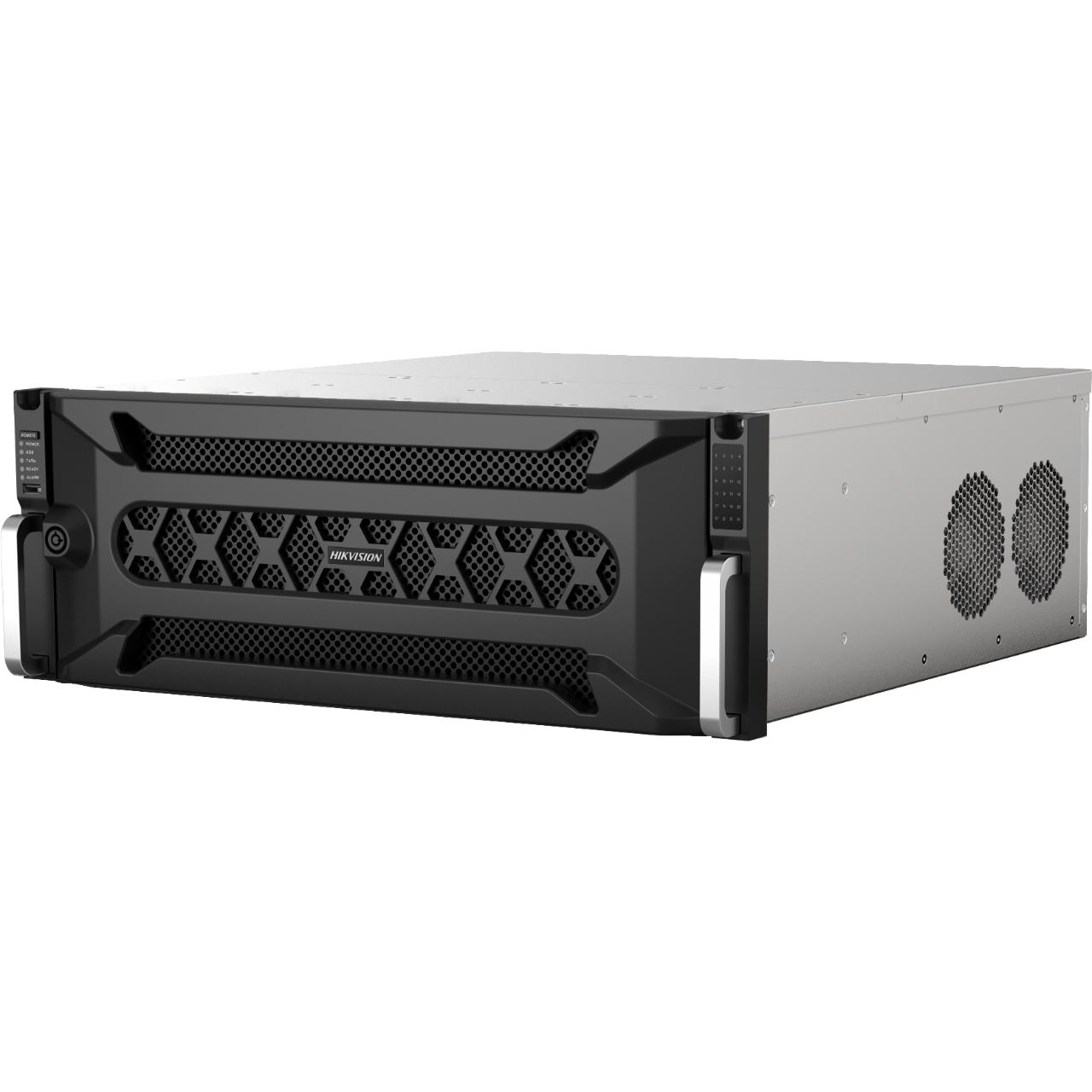 Unleash the Power of Comprehensive Connectivity
The HIKVISION DS-96256NI-I24 NVR revolutionizes surveillance infrastructure by supporting up to 256 IP cameras. With its high incoming bandwidth of 768 Mbps, this NVR ensures seamless connectivity, allowing for the simultaneous monitoring of numerous camera feeds. Whether you require extensive coverage for large-scale installations or seek to maximize situational awareness, the DS-96256NI-I24 NVR has you covered.
Exceptional Video Outputs for Crystal-Clear Monitoring
Witness the future of surveillance technology with the DS-96256NI-I24 NVR's two HDMI interfaces (different source) and one VGA interface. These outputs support stunning video resolutions, including the option for 4K imagery. Immerse yourself in an immersive visual experience, enabling you to analyze footage with unmatched clarity and make informed decisions based on precise visual information.
Specialized Cameras for Tailored Surveillance Solutions
The DS-96256NI-I24 NVR is designed to integrate seamlessly with specialized cameras, including people counting cameras, ANPR (automatic number plate recognition) cameras, and fisheye cameras. These advanced cameras provide specialized functionalities to meet specific surveillance requirements. Leveraging HIKVISION's NVR technology in conjunction with the expertise of HIKD, your organization can deploy a customized surveillance solution tailored to your unique needs.
Seamless Monitoring, Even in Challenging Network Conditions
Unreliable network conditions should never compromise your surveillance operations. The DS-96256NI-I24 NVR leverages advanced streaming technology to ensure smooth live viewing, even in poor network conditions. Stay connected and maintain constant surveillance coverage, regardless of external factors that may arise.
Reliable Data Storage and Continuous Operation
Data storage and system stability are critical aspects of any surveillance infrastructure. The DS-96256NI-I24 NVR offers support for RAID 0, 1, 5, 6, 10, and N+1 hot spare configurations, safeguarding your valuable footage against loss and ensuring uninterrupted operations. With the ability to accommodate up to 24 HDDs for continuous video recording, you can rest assured that your data is secure and accessible when you need it most.
HIKD: A Vital Partner in HIKVISION Solutions
HIKD's strategic partnership with HIKVISION is instrumental in delivering cutting-edge security solutions. As a trusted distributor of HIKVISION products, HIKD plays a pivotal role in bringing HIKVISION's innovative technology to businesses worldwide. With a shared commitment to excellence and customer satisfaction, HIKD ensures that customers have access to a comprehensive range of HIKVISION solutions tailored to their unique requirements.
Embrace the Future of Surveillance Technology
The DS-96256NI-I24 256-ch 4U 4K Super NVR signifies the next evolution in surveillance capabilities. Its exceptional connectivity, high-performance video outputs, compatibility with specialized cameras, reliable data storage options, and partnership with HIKD make it the ideal choice for organizations seeking unparalleled security solutions.
Experience the power of HIKVISION's DS-96256NI-I24 NVR and elevate your surveillance operations to new heights. For more information and to explore the extensive range of HIKVISION solutions, visit HIKD's website at [insert website link] or contact them at sales@hikdistribution.com. Trust in HIKD's partnership with HIKVISION to deliver cutting-edge technology and unwavering support, ensuring your surveillance infrastructure remains at the forefront of security innovation.
About Author