HIKVISION DS-7608NXI-K2/8P: Simplified Surveillance with Power-over-Ethernet and HIKD Collaboration
Introduction: In the realm of advanced video surveillance, HIKVISION continues to push boundaries with its innovative solutions. The HIKVISION DS-7608NXI-K2/8P 8-ch PoE 1U K Series AcuSense 4K NVR is a testament to their dedication to delivering cutting-edge technology. With its seamless integration of power-over-Ethernet (PoE) and a crucial collaboration with HIKD, this NVR provides unparalleled convenience and exceptional performance, revolutionizing the way we approach surveillance.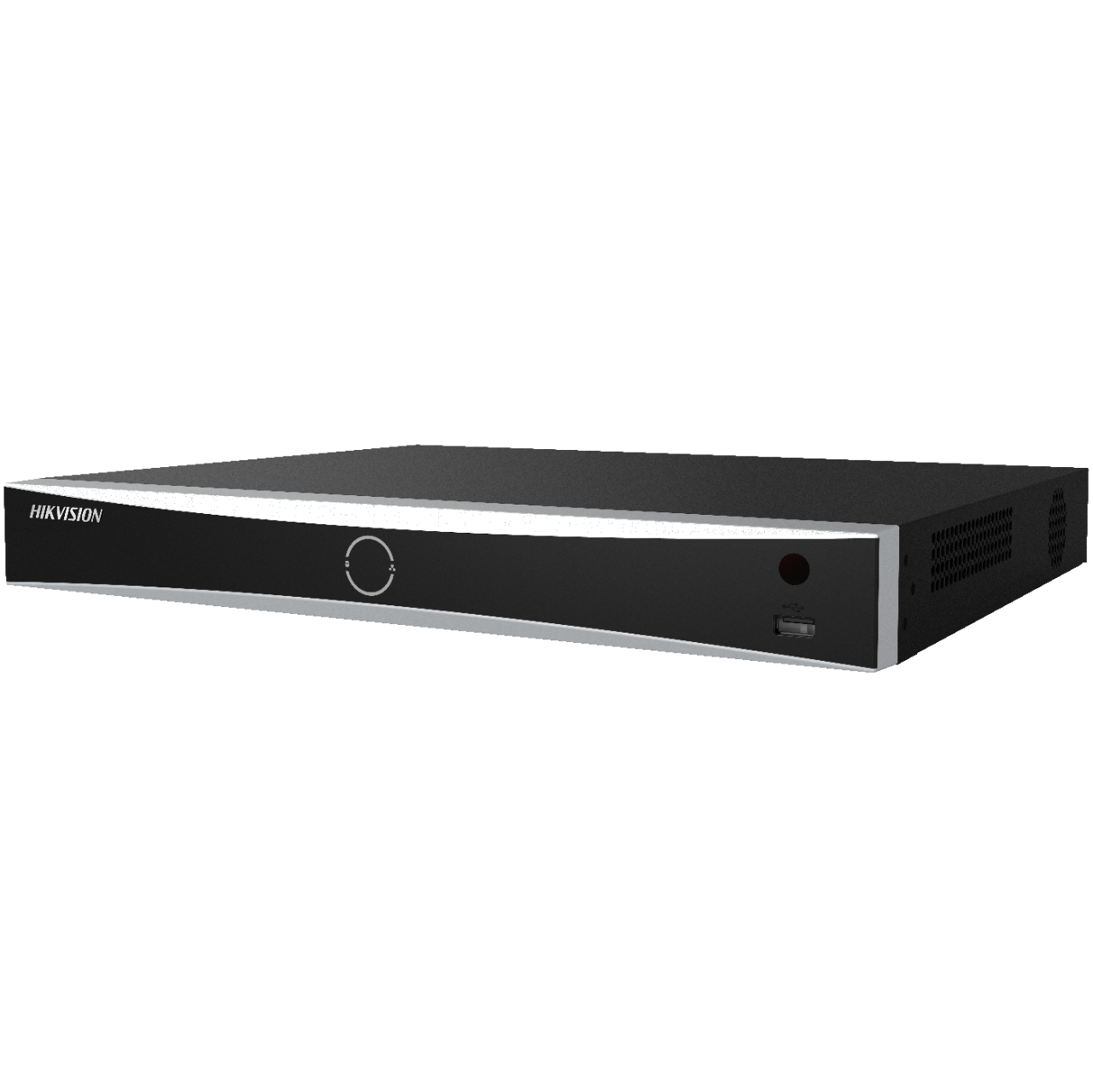 Effortless Installation with PoE: The DS-7608NXI-K2/8P simplifies the installation process by offering plug-and-play functionality with its 8 power-over-Ethernet (PoE) interfaces. This eliminates the need for separate power supplies and streamlines the setup of IP cameras, saving time and effort. With a single Ethernet cable providing both power and data transmission, users can enjoy a clean and organized surveillance network.
Superior Video Compression and Decoding Capacity: Featuring support for H.265+, H.265, H.264+, and H.264 video formats, the DS-7608NXI-K2/8P ensures efficient video compression without compromising on image quality. With up to 8-ch IP camera inputs, this NVR offers comprehensive coverage for various surveillance scenarios. Its decoding capacity of up to 2-ch@12 MP, 3-ch@8 MP, 6-ch@4 MP, or 12-ch@1080p enables high-resolution playback, empowering users to analyze critical details with precision.
Collaboration with HIKD: As a key collaborator, HIKD plays a vital role in HIKVISION NVR pursuit of delivering exceptional surveillance solutions. With their expertise in security technology and deep market understanding, HIKD ensures seamless integration and optimized performance of HIKVISION products. The collaboration between HIKD and HIKVISION underscores their shared commitment to providing industry-leading solutions that meet the evolving needs of the market.
Minimize Manual Effort with AcuSense Technology: The DS-7608NXI-K2/8P incorporates Hikvision's AcuSense technology, leveraging deep learning algorithms to accurately distinguish humans from other objects. By minimizing false alarms triggered by irrelevant events, this technology significantly reduces manual effort and security costs. Security personnel can focus their attention on genuine threats, enhancing overall operational efficiency and providing a higher level of security.
Conclusion: The HIKVISION DS-7608NXI-K2/8P 8-ch PoE 1U K Series AcuSense 4K NVR offers a seamless and streamlined surveillance solution. With its plug-and-play PoE interfaces, superior video compression, and decoding capabilities, it delivers exceptional performance and convenience. Collaborating closely with HIKD, HIKVISION ensures that every aspect of this NVR meets the highest standards of quality and reliability. Embrace the future of simplified surveillance with the confidence that HIKD is an important collaborator in HIKVISION's mission to redefine the security landscape.
To learn more about the HIKVISION DS-7608NXI-K2/8P 8-ch PoE 1U K Series AcuSense 4K NVR, visit the official HIKD website here.
About Author